Safe, natural and effective breast enhancement is now a reality. Perfect Curves breast enhancer requires no breast augmentation surgery (breast implants), breast pumps or steroids. Perfect Curves is an all natural herbal breast enhancement solution that helps your body's internal mechanisms naturally induce new breast growth.
Perfect Curves will make you look and feel sexier in 90 days or your money back. That's right, we guarantee that you will be receiving the attention that you deserve in 90 days or we will refund your money!
Why choose Perfect Curves breast enhancement pills?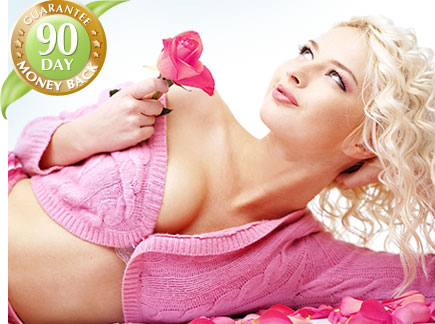 Perfect Curves is the most effective natural breast enhancement solution on the market today. Unlike other products available today, Perfect Curves utilizes both an herbal capsule and a breast enhancing cream to effectively encourage growth and hormone balancing. This internal/external approach allows us to produce amazing results that will improve your shape, size and tone within a matter of months.
The Perfect Curves breast enhancement program has been optimized using the highest quality ingredients and the most advanced research and formulation techniques known.
Perfect Curves' proprietary blend of proven breast-enlarging ingredients includes sabal, damiana, dong quai, and other powerful herbal extracts.
We have literally studied every herb on the planet and determined which ones are most effective at enhancing and firming a woman's bust.
We are so confident that you will find our product beneficial that we back it up with a 90 day money back guarantee. If you do not experience noticeable breast enhancement within 90 days we will refund your money. It's as simple as that!
How does Perfect Curves breast enhancer work?
Perfect Curves stimulates a woman's body to produce specific amounts of hormones which helps enhance both the adipose and connective tissues of the breast. This process does NOT cause any weight gain in a woman's body. Why choose breast implants or dangerous breast surgery when you can have a better bust naturally? Find out more about Perfect Curves Breast Enhancer...
How long does the breast enhancement process take?
Most customers begin to see an increase in breast tone and firmness within the first few weeks. Within three to five months most women are satisfied with their results and stop using Perfect Curves. All gains are permanent and you will not lose any of your new breast size once you stop taking this formula. If you have any questions then please look through our Frequently Asked Questions section or feel free to send us an email.