Bigger Breast Guarantee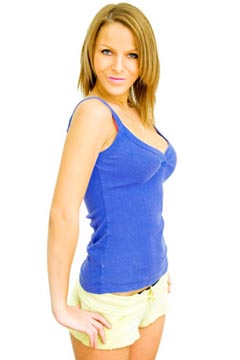 When Perfect Curves is used as directed this product is 80-85% effective. Results can depend upon a number of inherent factors such as metabolism and external factors such as lifestyle (including smoking) and diet (including caffeine and alcohol). We confidently believe that if this product is used as directed, a woman has a high probability of increasing her breast fullness and firmness. In the unusual event that this doesn't occur, we do offer a 90 day money back guarantee.

Most companies do not offer such an extensive and straight forward guarantee. This should be seen as a definite error in their logic and guarantee. It is commonly accepted that herbal breast enhancement programs require 3 - 9 months before real results can be seen or felt. Therefore, how can a person thoroughly evaluate a product if they are given a 30 day money back guarantee? To add insult to injury many of these companies also require that you return the bottles full and sealed to receive a refund. We highly recommend that if you do choose to use an herbal breast enhancement solution that you choose a company that stands by its product.
We are proud to offer such a giving return policy but we do ask for an honest and open evaluation of our product. If you achieve an increase in bust size but you do not achieve the size that you expected, we do request that you would still consider our product effective. When compared to the other alternatives available today, you have been provided with a top class product, which has taken your body to its natural potential. In addition, many women feel pleased with the other positive hormone balancing functions of our product and continue to use it for some time.
Guarantee applies ONLY to product which is purchased from this website.
Shipping and handling charges are not included.
Re-orders after 90 days represent satisfaction. No refunds will be applied once a re-order has been placed.
Guarantee applies only to retail customers. Guarantee does not apply to distributors.
If you ordered 3 bottles or more (in one order) within the last 90 days and you are one of the rare cases where this product did not work for then we will gladly refund your payment. Please keep in mind that this return policy states that a maximum of 3 bottles of capsules can be used and the remaining bottles returned are to be sealed and untampered. Your refund will be processed ONLY if you follow the instructions below. Here is what you need to do:
To request a return number click here for the return order form.

Fill out the form (within 90 days from the invoice date) with your full name, order number and the reason why you are returning the product. Your request for a return authorization number (RMA) will be reviewed for eligibility and if you are found eligible you will receive an email reply with a return order number. If you do not send this in within 90 days of the invoice date you will not be refunded.

Package the empty and/or full bottles and write the return order number legibly on the package.

Please be aware that ALL bottles must be returned in order to receive a refund and that the correct amount of opened/closed bottles must be present. Any return order, which does not contain all bottles ordered, will not be refunded.

Mail the package to the address provided with your RMA number using certified mail within 10 days after receiving your return order number (this is strictly enforced).

The order will be refunded to the original form of payment unless otherwise instructed.

Refunds are processed on the 1st and 15th of each month, so your credit may not appear for up to 2 weeks after we receive your return. Once a return is processed you should see the credit in the next billing cycle.
If you have any additional questions or comments, please contact us.